Research, Resources & History
New Directions Travel Agency
5276 Hollister Ave., Suite 207 
Santa Barbara, CA 93111
805.967.2841 | 888.967.2841
newdirectionstravel.org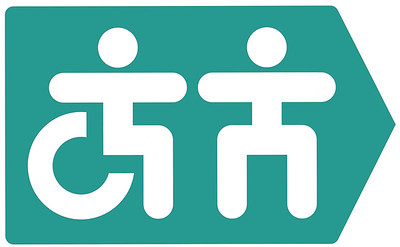 New Directions is a non-profit organization providing leisure and educational travel opportunities for teenagers, adults and seniors who have mild to moderate developmental disabilities. Since 1985, they have taken over 19,000 people with special needs on tours all over the world. 
New Directions' trips and tours are exceptionally high quality. Preparations include extensive research, fully custom arrangements, hundreds of safety-related details, medical/behavior reviews and individual attention. Staff-to-traveler ratio ranges from 1:1 through 1:4. They feel these labor-intensive preparations and ratios are essential to ensure a safe and normalized experience. 
Their programs promote a sense of accomplishment, belonging and self-worth for the participants by providing a wide range of challenging activities such as Skiing, Biking Tours, River Rafting, Snorkeling, Hot Air Ballooning, Kayaking, Sailing, Surf Camps.
New Directions annually sponsors trips in the United States as well as abroad. Previous excursions have included Australia, Hawaii, New Zealand, Washington D.C., Bahamas, New York City, Ireland, Las Vegas, Israel, Disneyland, Japan, and the Grand Canyon.
The Travel Guides are special educational instructors, recreation therapists, residential counselors, vocational and independent living skills counselors, and other professional staff who have been trained to work with people with developmental disabilities.
To help keep their fees down, they use volunteers and solicit donated goods and services whenever possible.
All tours are subsidized through donations. Full and partial travel scholarships are provided for those with financial need.
SOURCE: newdirectionstravel.org

Stanyan Park Hotel

750 Stanyan Street 
San Francisco, CA 94117 
415-751-1000
stanyanpark.com
Henry P. Heagerty, who ran a saloon and small boarding house on the Stanyan Street site since 1883, hired famed architectural firm Martens & Coffey to design a Beaux Arts style hotel. The construction was completed in 1904 and 1905 but shortly after completion, San Francisco was rocked by the famous 1906 earthquake and the hotel sustained damage. Thankfully, the area was spared the devastating fires that consumed most of downtown. Repairs were made and the hotel re-opened.
Over the years, the hotel has undergone many ownership changes and has continued as a hotel under a variety of names: Park View Hotel, in 1905; Hotel Golden Gate, 1907-1919; Hotel Roamer, 1925-1930; Stadium Hotel, 1930-1975 (referring to Kezar Stadium across the street in Golden Gate Park); and for a brief interval in 1960-1961 as the Fremont House and finally, the Stanyan Park Hotel in 1982.
The current owners purchased the building in 1980 and undertook an historic renovation, restoring the hotel to its original design with modern conveniences and structural upgrades.
The Stanyan Park Hotel, listed on the National Register of Historic Places, is a thoroughly restored Victorian Hotel that stands out for its restrained elegance.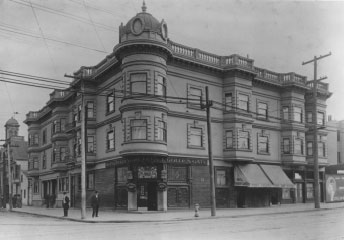 Circa 1908
The Stanyan Park Hotel in its original splendor.
The Stanyan Park Hotel as it looks today.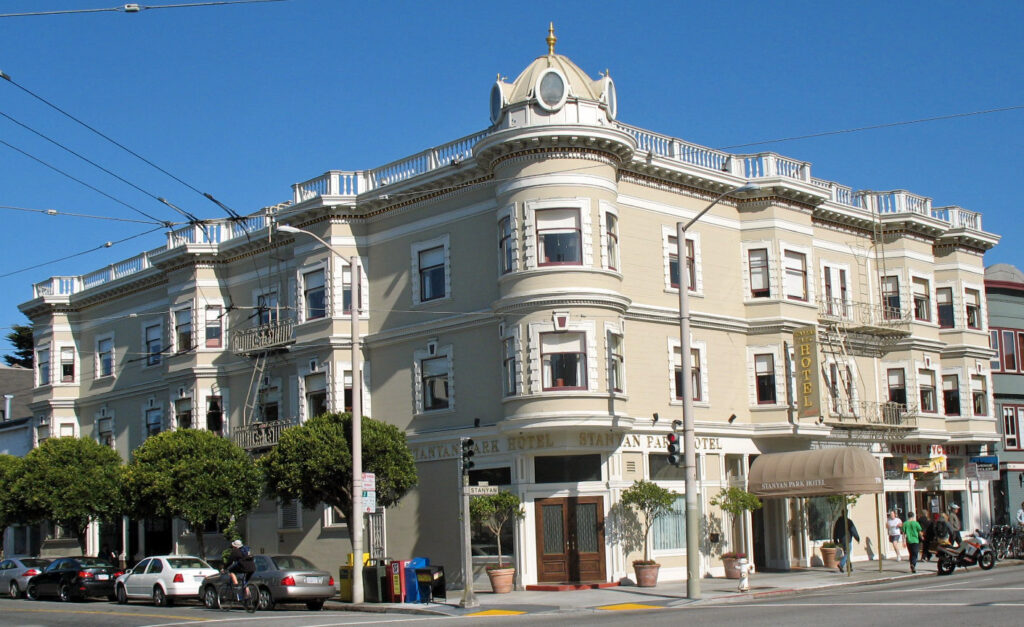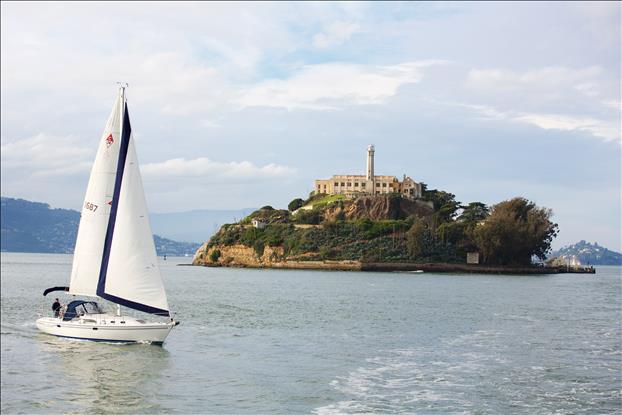 Originally the facility on Alcatraz Island was built as a naval defense fortification in the 1850s. It is located 1.25 miles offshore of San Francisco and housed military prisoners from 1861 to 1933. The U.S. Army transferred control to the Department of Justice and a new federal penitentiary on Alcatraz Island opened in 1934. The maximum-security, minimum-privilege facility was considered the toughest prison America could produce. It was reserved for the most hardened and unrepentant criminals in the U.S. prison system. Alcatraz represented the government's attempt to take a hardline stance against the rampant crime of the 1920s and '30s. It was even considered a privilege for inmates to have jobs at the prison; such as sewing, woodwork, and performing various maintenance and laundry chores.

During its 29 years in operation (1934-63), the prison housed some of the country's most notorious bad guys, including Al Capone, George "Machine Gun" Kelly, Alvin Karpis (designated the first "Public Enemy #1") and "Birdman" Robert Stroud.
Today, Alcatraz is a public museum and one of San Francisco's major tourist attractions, drawing some 1.5 million visitors annually.
THE GREAT ESCAPE FROM ALCATRAZ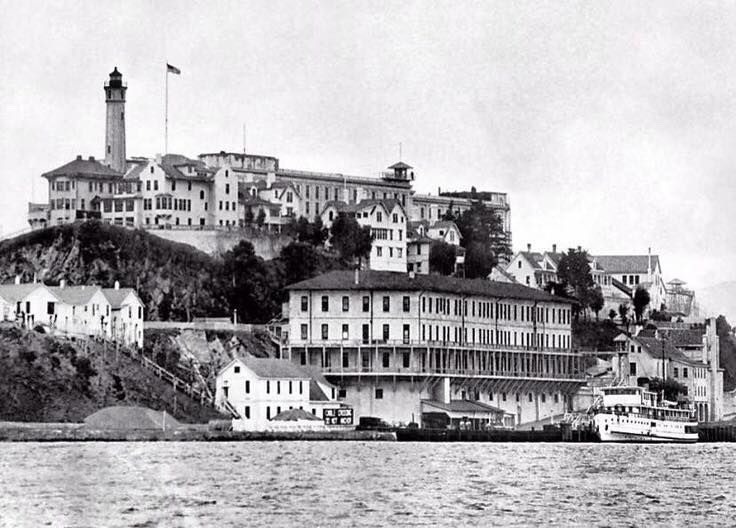 Given the high security of the island's location in the frigid waters and strong currents of San Francisco Bay, prison operators believed Alcatraz to be 'escape-proof'. Of the thirty-six inmates who staged fourteen escape attempts over the twenty-nine years that Alcatraz served as a federal penitentiary, twenty-three were recaptured, six were shot and killed, two drowned, and five (three being Frank Morris and brothers, John and Clarence Anglin; and the other two being Theodore Cole and Ralph Roe) are listed as "missing and presumed drowned."
---
INMATES INVOLVED IN THE GREAT ESCAPE
---
FRANK LEE MORRIS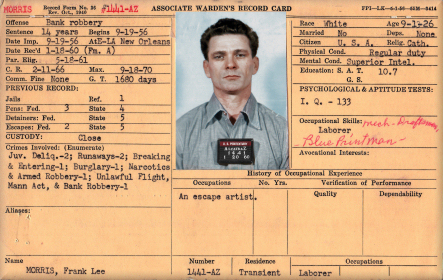 Frank Lee Morris (DOB September 1, 1926 – disappeared June 11, 1962) was born in Washington, D.C. He was abandoned by his mother and father during his childhood, and orphaned at age 11, and spent most of his formative years in foster homes. He was convicted of his first crime at age 13, and spent most of his early years in jail. By his late teens had been arrested for crimes ranging from narcotics possession to armed robbery and was finally was incarcerated at Alcatraz Federal Penitentiary on January 20, 1960.
Morris reportedly ranked in the top 2% of the general population in intelligence, having an IQ of 133. He was considered the mastermind of The Great Escape.
---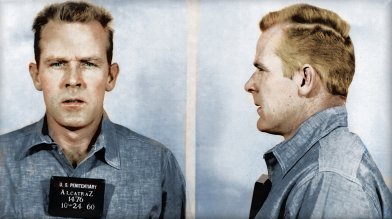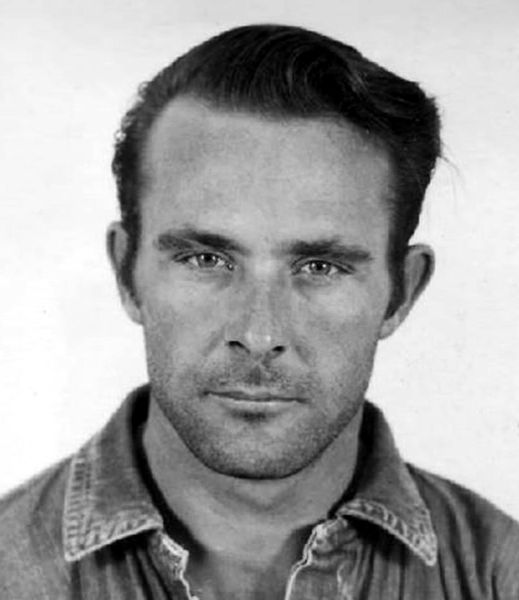 The Anglin brothers, John William, DOB May 2, 1930 and Clarence DOB May 11, 1931 – both disappeared on June 11, 1962. They were born into a family of 13 children in 
Donalsonville, Georgia. Their parents were seasonal farm workers, so the brothers grew up working as farmers and laborers. Clarence was first caught breaking into a service station when he was just 14 years old. Then, in the early 1950s, the brothers began robbing banks – usually when they were closed to ensure no one got injured. They claimed they only used a weapon once – a toy gun – during one of the bank heists. They were arrested in 1958 after robbing the Bank of Columbia and both received 15-to-20-year sentences. After repeated failed attempts to escape, the brothers were transferred to Alcatraz. John arrived on October 24, 1960 and Clarence on January 10, 1961.
Allen Clayton West (March 25, 1929 – December 21, 1978) was born in New York City. He was imprisoned for car theft in 1955 and transferred to Alcatraz in 1957 when he was 28. He had an eighth grade education and was arrested over 20 times throughout his lifetime. 
In December 1978, suffering severe abdominal pains, West died of acute peritonitis on December 21 at the age of 49.
A little known fact about the famed 'great escape,' is that there were initially six accomplices!
JUNE STEPHENS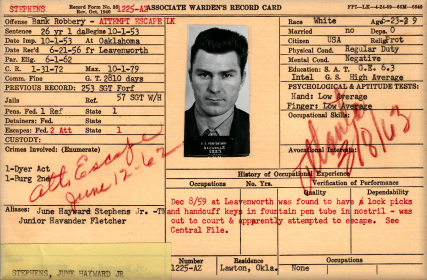 SOURCE: alcatrazhistory.com
June Stephens (June 23, 1929 – December 21, 1978) had been brought into the plan as early as December and occupied a cell on the third tier, directly above Morris and the Anglin Brothers. He later revealed that Frank Morris asked him to withdraw due to three issues that he had felt would ultimately compromise their escape plan.
The first was that each cell was having an additional water spout for warm water installed. While the backsides of the cells at ground level would be easy to conceal for officer inspections, there would be no way to conceal holes located at the backsides of the upper tier cells. Secondly, once the inmates had completed cutting around their grills, there was a risk that loose sections of the cement or grill could fall and alert officers to the escape plot. Finally, if they were successful going undetected, maneuvering out of the hole only being able to hold the pipes at such a high elevation would be much more difficult, not to mention it would be too dangerous emerging from a confined space at that height.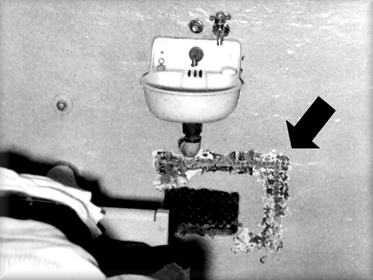 source:alcatrazhistory.com
Holes around Stephen's ventilator grill were found following the escape. And, while his role in the plan was believed to end five months prior to the escape being executed, his interviews with officials offered detailed descriptions on the inmates carefully planning and how they effected their escape. He was later tried and convicted for his role in the escape and sent to isolation. Stephen's died in November of 1995.
ROBERT L. WILLIAMS
Inmate Robert Williams considered a close associate of Frank Lee Morris, worked with him in the Glove Shop at Alcatraz. Williams was serving a life sentence for murder.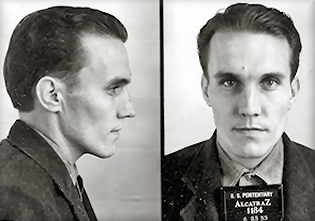 SOURCE:ALCATRAZHISTORY.COM
During a prison-wide shakedown following the escape, there were also holes found around the ventilation grill inside the cell of Robert L. Williams. While he completely denied his role, Stephens stated that "Williams probably had a significant role" as both he and Morris "were close friends" and he had helped Morris secure many of the articles that were used in the escape. Williams died in May of 2006.
FACTS OF OFFENSE
Allen West allegedly found several old saw blades in one of the utility corridors while cleaning… In later interviews, West would take credit for masterminding the clever escape.
The plan was extremely complex and involved the design and fabrication of ingenious lifelike decoy dummy heads, a raft and life preservers fashioned from over fifty rain coats that had been acquired from other inmates – some donated and some stolen. They would also require a variety of crudely made tools to dig with, and to construct the accessories necessary for the escape. By May of 1962, Morris and the Anglins and had already dug through the cell's six-by-nine-inch vent holes, and had started work on the vent on top of the cellblock.
The Anglins inhabited adjacent cells, as did West and Morris, who also resided nearby. The inmates alternated shifts, with one working and one on lookout. They would start work at 5:30 p.m. and continue till about 9:00 p.m., just prior to the lights-out count. Meanwhile John and Clarence started fabricating the dummy heads. The heads were crude but lifelike, and were constructed from a homemade cement-powder mixture that included such innocuous materials as soap and toilet paper. They were decorated with flesh-tone paint from prison art kits, and human hair from the barbershop. 
Using glue stolen from the glove shop, the inmates also started repurposing the raincoats into a makeshift raft and life preservers – which were carefully stitched by hand and sealed with the heat from the steam pipes. Each evening following the completion of their self-imposed work detail, they would hide the materials on top of the cellblock to minimize any chance of being caught with the contraband materials. The inmates also acquired an elaborate array of handmade tools. West was even able to lift an electric hair clipper while working on a paint detail in the barbershop.


Photos of the actual tools fashioned by the inmates to aid in their escape. The crudely made wrench was used effectively to remove the bolts on the rooftop ventilator grill.
John Anglin carefully completed the valve assembly on a large six-by-fourteen-foot raft, while Morris modified an accordion-like musical instrument called a concertina, which would be used to rapidly inflate the raft. But while the others had progressed well in their various preparations, West had fallen behind in digging out the ventilator grill at the rear of his cell. His primary role had been to construct the life preservers and special wooden paddles for the raft, tasks which didn't require him to leave his cell. On the night of June 11, 1962, Morris indicated that the top ventilator was loose enough, and that he felt that they were ready to attempt the escape.
At 9:30 pm, immediately after lights-out, Morris brought down the dummy heads from the top of the cellblock – where they had been stashing their supplies unbeknownst to the prison staff – and started preparing for their escape. Clarence Anglin attempted to assist West in removing his ventilator grill by kicking at it from outside of the cell in the utility corridor, but his efforts were unsuccessful. When Allen finally managed to remove the grill and re-widen the vent enough to pass through it, he made a dash for the prison roof only to find the others had gone. He returned to his cell around sunrise and went to sleep. 
The inmates sculpted decoy heads from paper mache and plaster, and piled towels and clothing under their blankets to create the illusion of them sleeping. While the dummy heads were crudely made, they were also effective. The night guards had no idea the inmates were missing until the next morning, giving the inmates time to escape.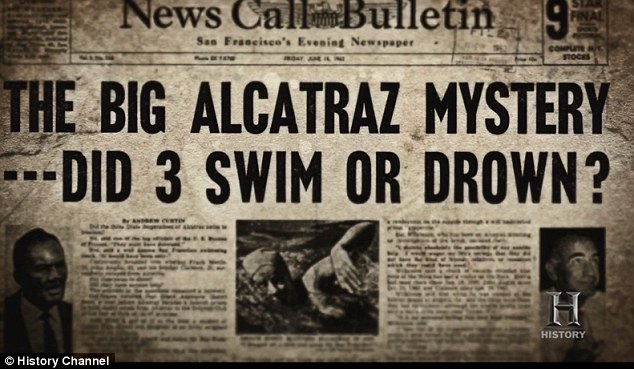 On June 12, 1962, at 7:15 AM, Frank Lee Morris, John William Anglin, & Clarence Anglin were discovered missing from their cells. The guards soon realized the three inmates had escaped through the ventilator ducts beneath their sinks and crawled into the utility corridor. They then climbed up a ventilation shaft to the roof and, hauling their gear with them, descended 50 feet down a kitchen smoke stack to the exterior of the men's showers at the rear of the building. 
They then proceeded to climb two 12-foot barbed-wire perimeter fences and make their way down steep embankments to the northeast shoreline which was near the power plant where there was a blind spot in the prison's network of searchlights and gun towers.
The prison guards also discovered a hole in the back of West's cell and a dummy head under his bed. He admitted they were to escape together, but the cement used to shore up crumbling concrete around his vent had hardened, diminishing the size of the hole and fixing the grill in place. West went on to cooperate fully with investigators and give them a detailed description of the escape plan, in return he was not punished for his role in it.
West said the plan was to escape to Angel Island, rest a bit, then reenter the bay on the opposite side of the island, swimming through 'Raccoon Straits' to Marin County. There they would steal a car and break into a clothing store before going their separate ways. But no such crimes were reported anywhere in Marin County within 12 days of the escape – a fact the authorities would use to support their conclusion the attempt had failed. 
Decoy heads from left to right Clarence, John, Frank and Allen.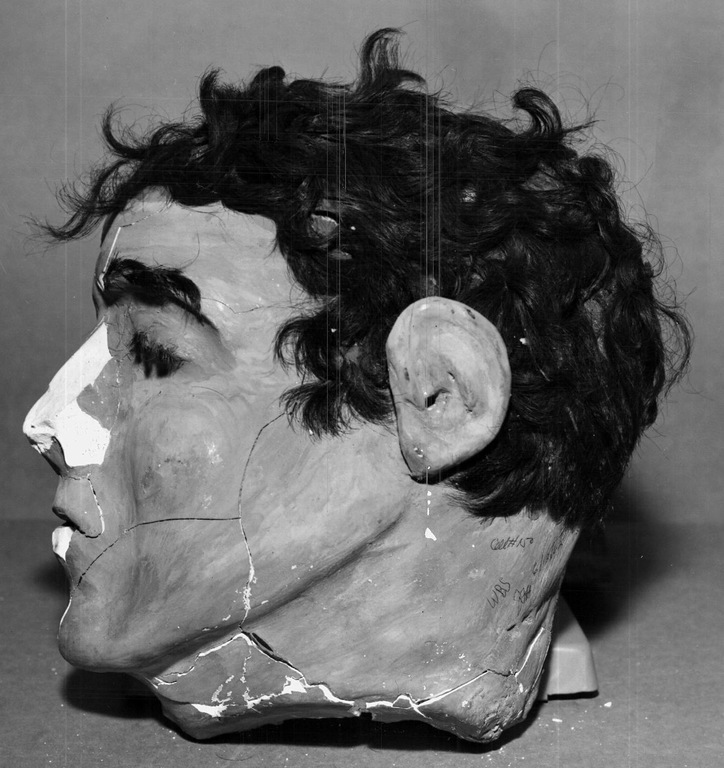 This is the decoy head found in Morris' cell. The broken nose resulted when the head rolled off the bed and struck the floor after a guard reached through the bars and pushed it.
---
Authorities said they made replicas decoy heads to share with the public because the originals were fragile and evidence in the still-open investigation by the U.S. Marshals Service.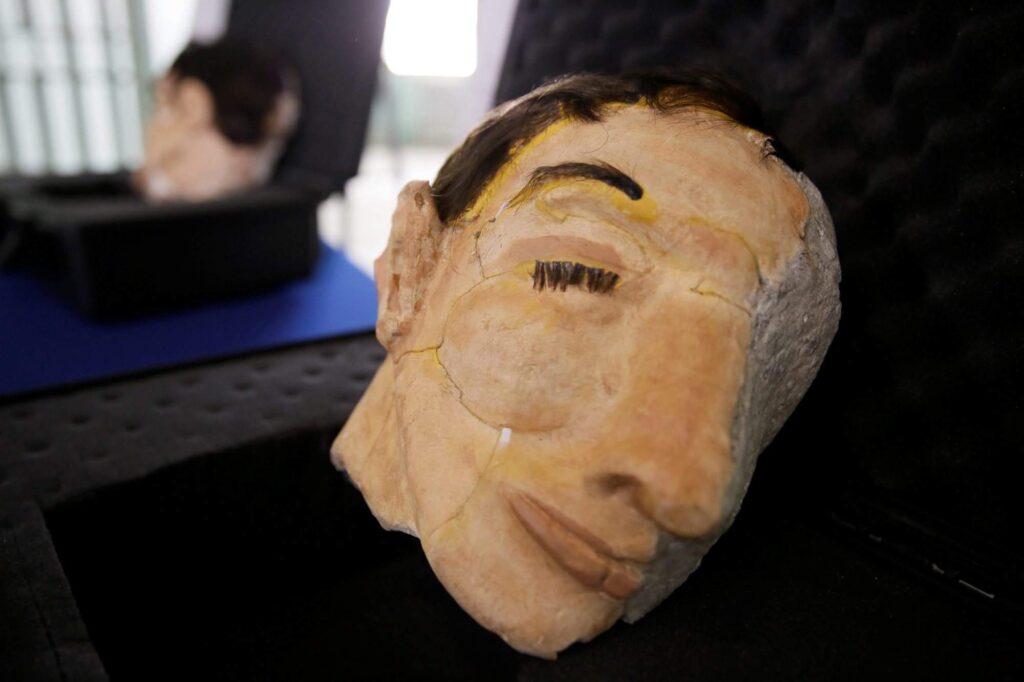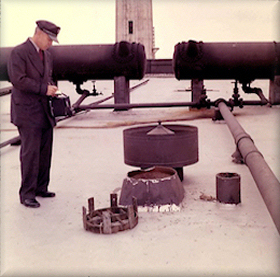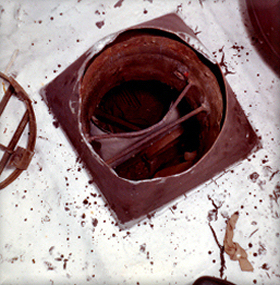 This was their escape point from the cell-house.